Kevin Scheele - Artistic Director
Director: Concert Choir and Chorale
Kevin Scheele has been involved with the Lincoln Boys Choir since its origin in 2002. After 14 years as associate director, Mr. Scheele was named artistic director in 2019 and now conducts both Concert Choir and Chorale. Mr. Scheele earned his bachelor of music education degree from Nebraska Wesleyan University. While there, he studied voice with Boyd Bacon, vocal pedagogy and diction with Dr. Jana Holzmeier, and conducting with Dr. William Wyman. He also sang in the Nebraska Wesleyan University Choir, Chamber Choir, and Opera Workshop during his collegiate years. Mr. Scheele was a contracted singer with the St. Paul UMC Chancel Choir for nearly 20 years, where he also served as assistant conductor. He taught vocal music at Lincoln Southeast High School for six years, having directed the freshman choir, junior varsity mixed choir, and sophomore swing choir. Mr. Scheele spends time each summer attending choral workshops and served on the staff of the Nebraska Wesleyan Children's Choir Camp for over 10 years. He is a fifth-generation Nebraska farmer, with his family's farming history dating back to 1878. His wife, Katie, is an art therapist and an Adjunct Instructor of Psychology at Nebraska Wesleyan University. Their children, Rachel, Chloe, and Henry, are a source of joy for them both.
Eric Wyler - Associate Director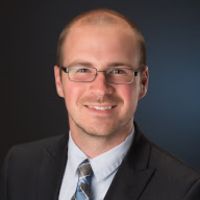 Director: Cantare
This is Eric Wyler's third year as the associate director of the Lincoln Boys Choir and conductor of Cantare. Eric also served as music director at St. John Lutheran Church in Council Bluffs where he conducted the Chancel Choir and Bell Choir. Eric has six years of experience as a public school music educator most recently as head director at Lewis Central High School in Council Bluffs, IA. He is a frequent judge, adjudicator, and clinician for various show choir competitions, choral and vocal solo contests, and honor choirs. Eric holds a bachelor's degree in vocal music education from Nebraska Wesleyan University and a master's degree in music from the University of Nebraska-Lincoln. Eric and his wife, Lindsy, enjoy spending time with their children: James, Elijah, Emilia, and Jackson.